Navigation
Darcy's News & Happenings
Reviews
Behind The Black Door Review
The world beyond the black door is created in vivid detail. The author has an outstanding talent for painting a picture with words and pulling the reader in to look around. I was enthralled by Gulietta and her ability to stand and outsmart men who think of women as nothing more than property. Behind The Black Door should be on the top of erotic lovers' reading lists... ----Delane, Coffee Time Romance & More
Behind The Black Door Review
This book was a great read. The sex was hot and I fell in love with the characters... Great sex, strong characters and a sassy woman are what make great books! Highly recommended read! ----Fire Nymph, Literary Nymphs Reviews Only
Other Links
Darcy's Blog Preview
Blurb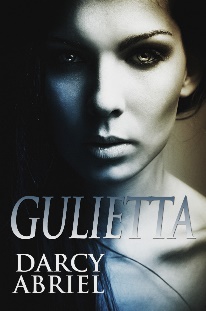 The lovely and seductive Gulietta requires sex on an inhumanly frequent basis. It isn't until the Roman immortal, Quintus, barrels into her life, revealing the identity of her father, that suddenly she's dropped into a magical world populated with atyrs, fairies, and shapeshifters. It seems her "problem" is not rooted in human sexual dysfunction after all. Gulietta finally discovers who and what her father is--as well as what she is. And Quintus has made it clear he is the man who can provide exactly what she needs. That is, if her father's game plan doesn't get in the way...
[First published by Amber Quill Press/Amber Heat under the title "Behind the Black Door."]
New edition releasing May 6, 2016. Preorder now on Amazon.
Excerpt
She reached for him, but he stopped her. His big hands locked around her fragile wrists.
"Slowly," he said.
"I can't wait. I need you now."
"And so you shall have me. Calm yourself. I know the rage is upon you. You'll enjoy it so much more if you relax."
"Enjoy it? You've got to be kidding."
He tilted his head as he looked at her. "You've never enjoyed the mating?"
"Not that I can remember. Now stop talking and fuck me. Or I'll find someone else who will." She reached for his cock and again he pushed away her hands.
He leaned toward her, and his lips brushed against hers.
"Open your mouth," he whispered.
If she wanted to ease the pain, she was going to have to do what he asked. She couldn't bear the cramping of her womb any longer. The medicine the doctors gave her never helped. There was only one way to ease the ache.
She opened her mouth. He licked across her lips, then buried his tongue inside. She sucked for all she was worth. The clench of her womb increased as though to say, "Yes, this is the one. I want him."
And so you shall have him, bane of my existence. As soon as he allows me to have him.
He withdrew his tongue, then began to lick along her jaw, circling over her chin. Tilting her head slightly, he tracked down her throat. Then he unbuttoned her shirt, peeling it back to expose her breasts. The cool night air brushed across her skin, heightening her awareness. She shivered from the exquisite contact.
The cramping continued, but something else curled inside her. A heat that spiraled through her. A wetness that pooled between her thighs. Wetter than she'd ever been before.
A sound somewhere between a purr and a moan escaped from her. He lifted his head and looked at her. Then she gasped as he spun her around and pulled her even deeper into the alleyway. Not a sound but their heavy breathing. The long, drawn-out yowl of a cat suddenly echoed through the deserted passage. She stiffened, but then the stranger captured her attention once more and she forgot about anything else.
His kisses drugged her as he claimed her lips, then dipped lower and sucked a nipple deep into his mouth.
A tight arrow of ache and ecstasy shot through her, from her breasts to her cunt. Oh, God, it felt so good. Too good. Her womb clenched tighter, and her pussy dripped more cream onto her thighs. One of his hands gripped her calf and lifted her leg. He yanked off her boot and she heard the thump as it landed on the pavement.
She didn't care. She wanted him more than she'd ever wanted any man before. However he wanted to do it, she was more than willing. There was a difference. Yes, she had needed the sex before. But on this night she wanted it. And that was unusual. He shoved her pants down her legs, all the way, then yanked one leg of her jeans complete off, freeing one of her limbs.
He raised the bare leg, anchored it against his powerful thigh, opened her wide, then shoved his cock into her wet pussy. He lifted her with huge muscled arms, and she wrapped her free leg around his waist. His mouth found hers once more, fusing them together. Not a space for breath, from willing mouth to wet cunt, locked lips to rigid cock, and she felt him so deeply the world rocked, splintered and fell away.
He forced her to remain still, just holding her close, her pussy wrapped tightly around his cock, lips wide, hairs tickling. Sanity shifted.
"I have come for you and you alone, woman," he said.
"W-who are you?" His cock nudged deeper and she whimpered as the tip brushed against the opening of her cervix.
"I am Quintus, the Roman. Servant of your father."
Her eyes widened. "My father!"
And then he began to move inside her and she thought she would die from the pleasure. Slow surges, in and out as he ground against her. Her back wedged against the brick wall, he drove his cock into her channel. The first climax shattered her.